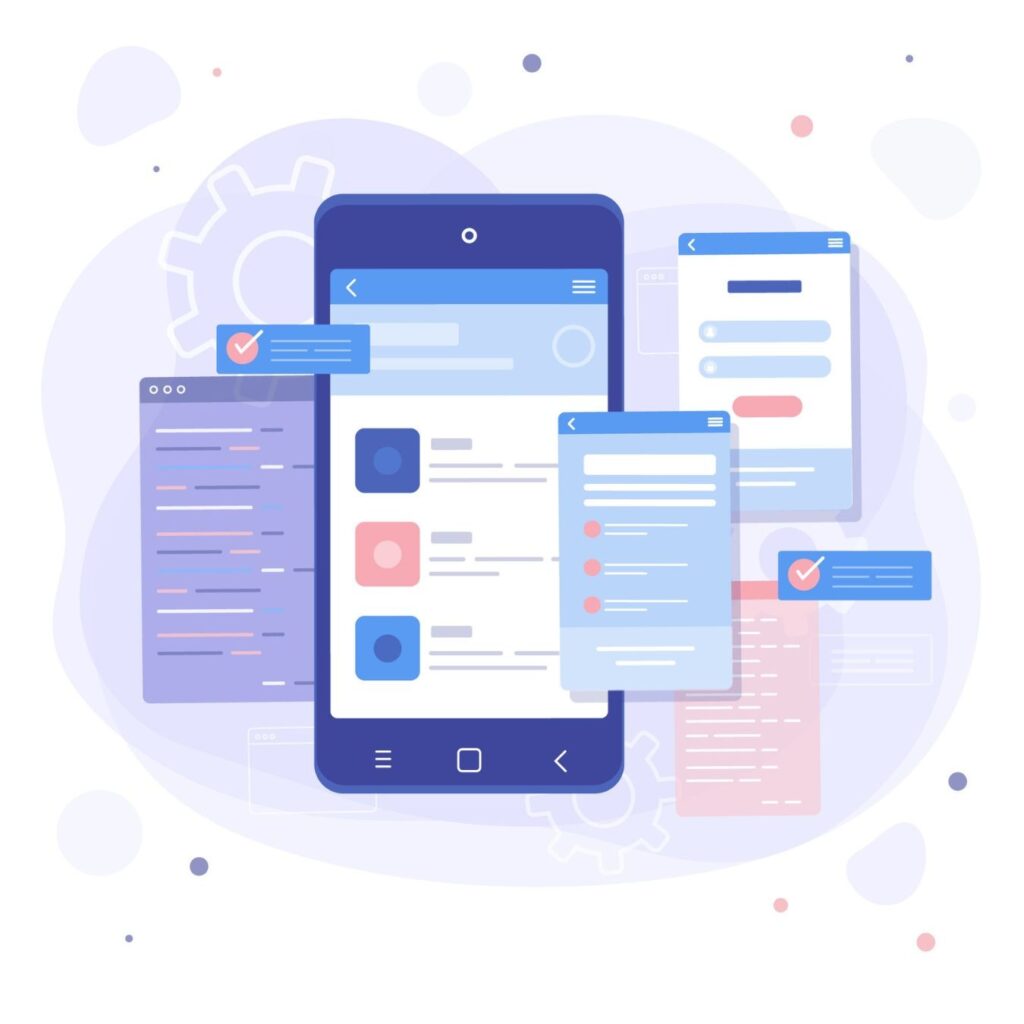 Maximize The App's Potential With App Store Optimization (ASO) Services
App Store Optimization Services involve optimizing the listing and product of a mobile app or game with the goal of increasing visibility, improving conversion rates, and boosting organic downloads on the Apple App Store and Google Play Store. 
The ultimate aim of ASO services is to enhance business performance, and it serves as the foundation of any App Marketing strategy. ASO can be broken down into three key components: 1) traffic, 2) conversion, and 3) retention. In addition to ASO, our agency also specializes in SEO (Search Engine Optimization) for iPhone and Android apps in Google's mobile web search.
1) Traffic: The Key to App Success!
Traffic, in the context of ASO services, refers to the number of users or potential customers that visit an app's page on an app store. Generating high-quality traffic is crucial for app success as it increases the chances of attracting users who are genuinely interested in the app. Effective ASO techniques can optimize the app's metadata, keywords, and visual elements to improve its visibility and attract relevant traffic to the app store page.
2) Conversion: Transforming Visitors into Engaged Users!
Conversion is the process of turning app store visitors into actual users or customers. It involves convincing users to download and install the app by highlighting its unique features, benefits, and value proposition. Conversion optimization techniques in ASO focus on creating compelling app descriptions, engaging screenshots and videos, and encouraging positive reviews and ratings. By optimizing the conversion rate, ASO helps maximize the number of downloads and installations.
3) Retention: Building Long-Term User Engagement!
Retention is the ability to retain and engage users over an extended period. It is crucial for app success as it ensures that users continue to use the app, increasing its long-term profitability. ASO strategies for retention involve providing a positive user experience, regularly updating the app with new features and bug fixes, implementing effective push notifications and app updates, and fostering user loyalty through incentives and rewards. By focusing on retention, ASO helps increase user satisfaction, reduce churn rate, and ultimately improve the app's overall performance
Top Apps Store Optimization Agency or ASO Company in India
Being the top App Store Optimization Agency or ASO Company in India, we specialize in providing top-notch ASO services to help app owners achieve their goals. With millions of apps available in various app stores, getting your app noticed is a significant challenge. This is where an ASO service provider comes in. We help your app stand out from the competition, ensuring that it is seen by the right audience. By leveraging our ASO techniques, you can improve your app's discoverability, attract more organic traffic, and increase your chances of downloads. With our expertise and in-depth knowledge of the app market, we have a proven track record of driving significant results for our clients. Our team of ASO professionals stays up-to-date with the latest industry trends and best practices to ensure that your app receives the attention it deserves in the competitive app market.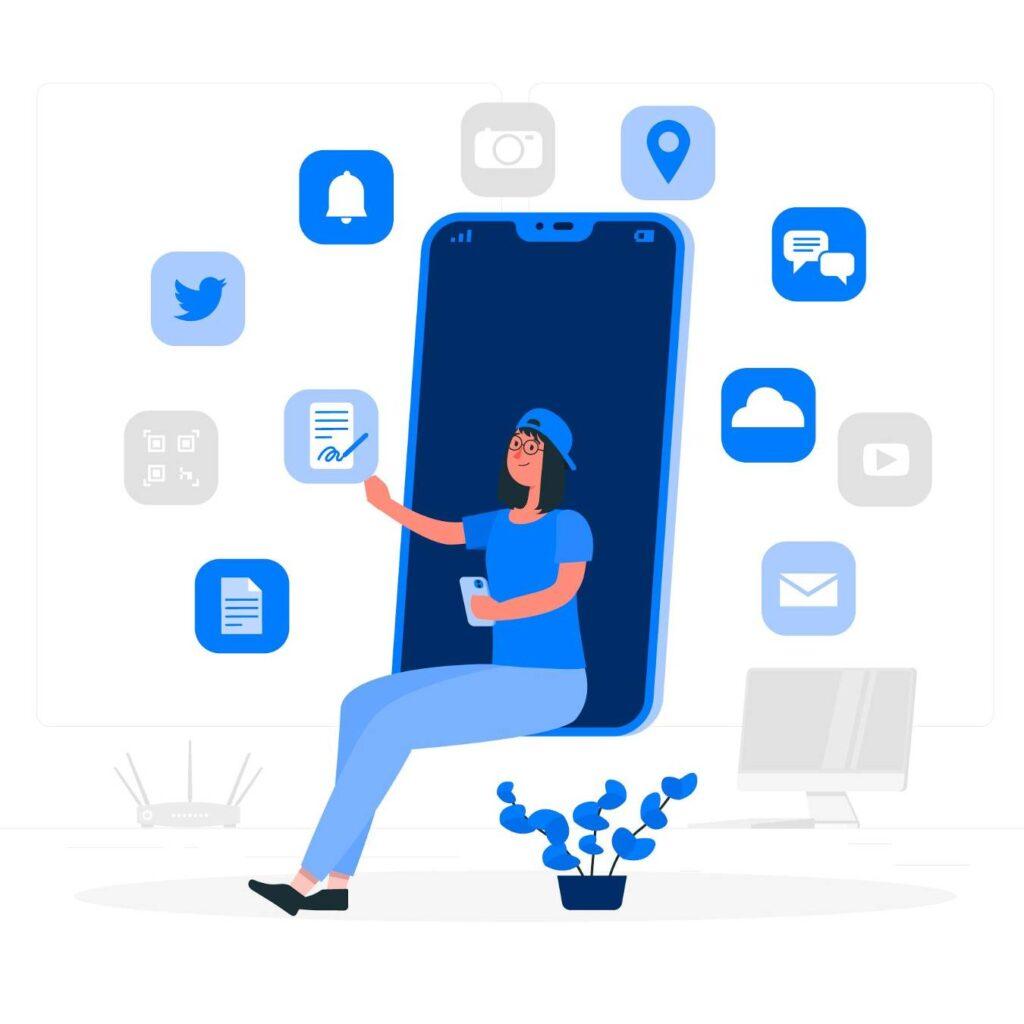 Understanding App Store Optimization (ASO): Definition, Purpose, & Benefits
Definition & Purpose of ASO:
App Store Optimization (ASO) refers to the process of optimizing mobile app listings to improve their visibility and performance in app stores. The primary purpose of ASO is to increase the app's organic visibility, attract more relevant users, and ultimately drive higher downloads and conversions.
Key components of ASO: title, keywords, description, icon, screenshots & reviews
Title: The title of the app is a crucial component that should be concise, descriptive, and contain relevant keywords. A well-optimized title can have a significant impact on the app's search rankings and make it more appealing to users. A well-optimized title improves the app's visibility in search results and enhances its click-through rates.
Keywords: Keywords play a vital role in ASO as they determine the visibility of the app in search results. By conducting thorough keyword research, app owners can identify and target the most relevant and high-traffic keywords to optimize the chances of their app being discovered. Targeting relevant keywords helps the app rank higher in search results and attract more organic traffic, thus increasing its visibility.
Description: The description of the app provides an opportunity to highlight its features, benefits, and unique selling points (USP). By optimizing the description with relevant keywords and compelling content, conversions can be improved as users are convinced to download the app. An optimized description effectively emphasizes the app's key features and benefits, convincing users to take the step of downloading it.
Icon: The app's icon is the first visual impression users get. A visually appealing and well-designed icon can capture users' attention, increase click-through rates, and make the app more memorable. Moreover, a visually appealing icon grabs users' attention and increases the chances of app store visitors exploring the app further.
Screenshots: Screenshots showcase the app's user interface, features, and functionalities, while optimized screenshots with engaging visuals, captions, and call-to-action can entice users to explore the app further and increase conversion rates. Engaging screenshots effectively showcase the app's value proposition, thereby increasing user interest and boosting conversions.
Reviews: User reviews and ratings are crucial social proof that influences users' decisions to download an app. Encouraging positive reviews and managing negative feedback can enhance the app's reputation, credibility, and overall conversion rates. Positive reviews and high ratings build trust and credibility, leading to higher download rates and user engagement.
What sets us apart for ASO Services?
We are the leading provider of App Store Optimization (ASO) services with a wealth of expertise and experience in the field. Our dedicated team of ASO professionals has in-depth knowledge of the app market and a proven track record of delivering exceptional results for our clients. We stay updated with the latest industry trends and best practices to ensure that our ASO strategies are effective and yield maximum benefits for our client's apps.
Our unique approach & strategies for optimizing app listings.
At our agency, we understand that every app is unique and requires a tailored approach to achieve optimal results. Our ASO experts take a comprehensive approach to optimizing app listings, combining data-driven analysis with creativity and industry insights. We conduct thorough research to identify the most relevant keywords and strategically incorporate them into the app's title, description, and other relevant areas. We also pay close attention to optimizing visual elements such as icons and screenshots to ensure they captivate users and drive engagement.
Proven Success: ASO Case Studies & Success Stories.
We have a proven track record of success in improving app visibility, organic downloads, and user acquisition through our ASO services. Our website features case studies and success stories highlighting how our ASO strategies have helped our clients achieve significant results. These real-world examples demonstrate the effectiveness of our approach and the positive impact it has had on our client's apps.
We are proud to have a roster of satisfied clients who have experienced the benefits of our ASO services. Our website showcases testimonials from these clients, sharing their firsthand experiences of how partnering with us has led to increased app visibility, higher rankings, and significant growth in downloads. These testimonials serve as evidence of our commitment to client success and the quality of our ASO services.
Get Customized ASO Services for Your App or Game
App Stores Overflowing with Apps? We Offer Targeted Marketing & ASO Services for Guaranteed Success! At our company (agency), we understand that having an innovative app is just the beginning. To reach your specific users and secure millions of downloads, you need targeted marketing and app store optimization services. Our 360-degree strategies are designed to popularize your apps on the app stores and ensure your success. With our cutting-edge knowledge of the latest tools, app intelligence, and marketing tactics, we provide you with:
At every stage, from the beginning of app development, we closely collaborate with you to ensure that your app is optimized for people. We leave no stone unturned in optimizing key elements such as the app icon, app name, localization, pricing, and tracking app parameters. By working together, we create a comprehensive ASO strategy that puts your app on the path to success.
To deliver quick results, we leverage paid acquisition strategies in conjunction with ASO. Our team possesses expertise in AdWords, Search Ads, social media promotions, and search engine optimization services, enabling us to maximize downloads within a shorter timeframe. By combining these powerful approaches, we ensure that your app gains significant traction and achieves optimal visibility in the market.
We have highly talented writers who create the perfect app description, keyword list, app title, and promotional text that explain the value proposition of your app and drive the maximum value for search visibility.
4. Conversion Rate Optimization (CRO)
Our primary goal is to increase the visit-to-install ratio for your app. To achieve this, we employ various algorithms and conduct quality checks to ensure that our ASO strategy effectively improves your chart rankings and drives significant download numbers. By constantly monitoring and optimizing our approach, we guarantee a strategy that maximizes user engagement and delivers tangible results for your app.
5. App Store Optimization (ASO) Analysis
To enhance your app's performance, we employ advanced techniques such as Sentiment Analysis, which allows us to analyze app ratings, user numbers, CTRs, and reviews. This data-driven approach provides valuable insights into user sentiment and helps us identify areas for improvement.
Additionally, we utilize A/B Testing to determine the most market-relevant keywords. By continuously optimizing these keywords, we ensure better results and increased visibility in the app stores. Our commitment to data analysis and experimentation empowers us to refine your app's strategy and achieve optimal outcomes.
We prioritize customer support by promptly addressing any negative reviews, improving ratings, and resolving issues that may impact your app's search visibility. Our dedicated team is committed to ensuring a positive user experience and maximizing your app's success.
In addition to customer support, we assist our clients in creating captivating promotional videos in various formats, including 2D, 3D, and more. These videos serve as powerful marketing tools to effectively showcase your app's features and benefits, attracting a wider audience and increasing app visibility.
By choosing us for your ASO needs, you can benefit from our extensive expertise, unique strategies, proven results, and satisfied clients. We are dedicated to helping your app reach its full potential in the competitive app market and achieving long-term success.
Frequently Asked Questions (FAQ) about App Store Optimization.
Get world-class, flexible support via live chat, email, and phone. We guarantee that you'll be able to have any issue resolved within 24 hrs.
Address:
49(40), A K Road, Titagarh
Kolkata-700119, West Bengal, India
Submit your details now and we will contact you soon.